A chopper is a type of motorcycle that was either modified from an original motorcycle design ("chopped") or built from scratch to have a unique hand-crafted appearance. The main features of a chopper that make it stand out are its longer frame design accompanied by a stretch front end, or increased rake angle. To achieve a longer front end, while the frame is being designed, the fabricator will tilt the neck of the frame at less of an incline and install a longer fork. Another unique aspect of a chopper design is that there is usually no rear suspension meaning the frame of the motorcycle will extend from the neck (or front of the frame) all the way to the rear wheel. This can make handling the motorcycle more challenging and the ride a bit more "bumpy". These attributes may seem radical to some but are necessary for the look that is desired. One look that is becoming more popular with chopper designs is a low frame to ground clearance or a low-rider look. Well known examples of chopper designs are the customized
Harley-Davidsons
, the "Captain America" and "Billy Bike", seen in the 1969 film Easy Rider.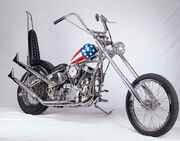 Ad blocker interference detected!
Wikia is a free-to-use site that makes money from advertising. We have a modified experience for viewers using ad blockers

Wikia is not accessible if you've made further modifications. Remove the custom ad blocker rule(s) and the page will load as expected.