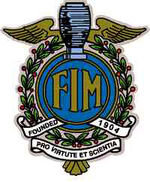 There are too many obstacles on this course!


This article has an excess of redlinks.

Please try to create new articles from these links and/or fix links that are broken because of incorrect spelling, etc.



The Fédération Internationale de Motocyclisme (FIM) is the governing body of motorcycle racing. It represents 90 national motorcycle federations that are divided into six regional continental unions.
There are five motorcycle-racing disciplines that FIM covers, encompassing 34 world championships and prizes: road racing, motocross, trials, enduro, and track racing (combining Grass Track and Speedway). FIM is also involved in many non-racing activities that promote the sport, its safety, and support relevant public policy.
Based in Geneva, Switzerland, it is compromised of 97 federations from around the globe.
External Links
Edit

This article is a stub. You can help Motorcycle Wiki by expanding it.
Ad blocker interference detected!
Wikia is a free-to-use site that makes money from advertising. We have a modified experience for viewers using ad blockers

Wikia is not accessible if you've made further modifications. Remove the custom ad blocker rule(s) and the page will load as expected.