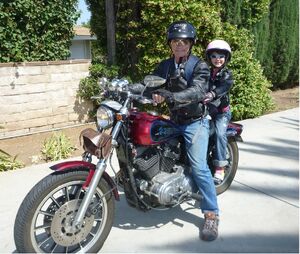 Sweet in-town cruiser...
Edit
The 1996 Harley Sportster Custom 1200 is a wonderful little beast for crusing around town, and it's great for taking the kids for a ride because the rear pegs are close to the seat... 
...but not so good for long highway cruises
Edit
Before 2003, Sporters had solid motor mounts and that makes it vibrate and ride roughly and that gets fatiguing after 20 miles. Can't beat it in town, though. Nimble, with great torque and start-up accceleration and with drag bas you can fit between cars pretty much at will.