The Honda CB1100 is a 1,140 cc standard motorcycle produced  by Honda.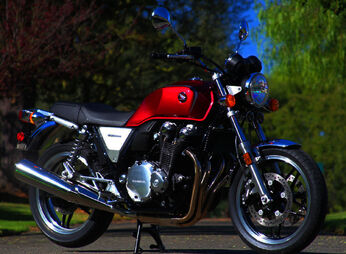 Development
Edit
Originally aimed for Japanese, Australian, and New Zealand market, the bike was later sold in Europe and USA. The design follows the 'universal Japanese motorcycle' philosophy. It is powered by a massive 1,140 cc air-and-oil cooled  inline four cylinder engine. 
The model underwent a revision in 2014, gaining a sixth gear and new gauge cluster. Honda also released the CB1100 Deluxe, an upgraded variant on the standard CB1100.
Ad blocker interference detected!
Wikia is a free-to-use site that makes money from advertising. We have a modified experience for viewers using ad blockers

Wikia is not accessible if you've made further modifications. Remove the custom ad blocker rule(s) and the page will load as expected.