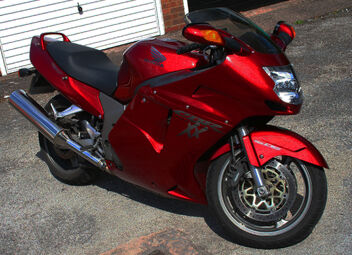 The Honda CBR1100XX BlackBird, or simply called the Blackbird, is a hyperbike manufactured by Honda. It was aimed to break Kawasaki's record in making the fastest production motorcycle. Two years later, it was surprassed by Suzuki Hayabusa. 
Background
Edit
With the Kawasaki ZX-11 being the fastest production bike in the world, Honda tried to make 
a faster bike through the CBR1100XX BlackBird. Blackbird is a nickname used for Lockheed's SR-71 fightet jet, which is the fastest aircraft in the world. It was recorded to reach the top speed of 178.5 mph (287.3 km/h), which is faster than the Kawasaki ZX-11 top speed, which is 175 mph (281.6 km/h). 2 years later, the Suzuki made a faster bike, the Hayabusa, which was able to reach the top speed of 194 mph (312 km/h).
Ad blocker interference detected!
Wikia is a free-to-use site that makes money from advertising. We have a modified experience for viewers using ad blockers

Wikia is not accessible if you've made further modifications. Remove the custom ad blocker rule(s) and the page will load as expected.