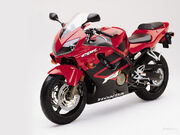 Honda CBR 600F is one of the most popular sports bikes. It was introduced in 1986 and has been to 2006. During this long time there were many changes and versions of this model:
Honda CBR 600 F1 (1986-1990)
Honda CBR 600 F2 (1991-1994)
Honda CBR 600 F3 (1994-1998)
Honda CBR 600 F4 (1999-2000)
Honda CBR 600 F4i (2001-2006)
In 2011 Honda decided to resume the production releasing CBR 600F 2011.
Ad blocker interference detected!
Wikia is a free-to-use site that makes money from advertising. We have a modified experience for viewers using ad blockers

Wikia is not accessible if you've made further modifications. Remove the custom ad blocker rule(s) and the page will load as expected.