Honda goldwing is an iconic touring bike made by Honda.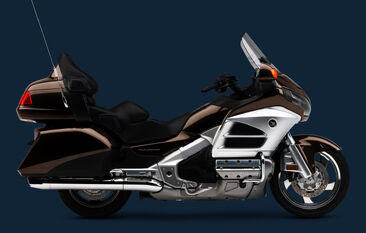 The first Goldwing was unveiled at the cologne show in October 1974, Honda decided to abandon the flat-six engine, and pursue the grand tourer with the more compact flat four engine of 999 cc capacity.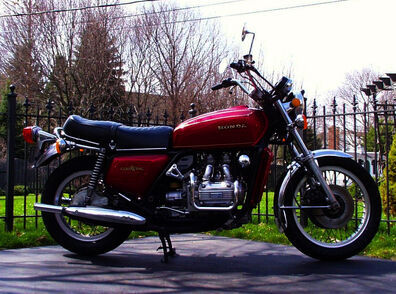 It was water-cooled, had belt-driven single overhead camshafts, four 32 mm constant-vacuum carburetors, a five speed gearbox, and a shaft drive to the rear wheel and had a weight of 226 lbs.
The rear fork was integrated with the shaft drive, which carried a universal joint at his front end and a bevel box at the rear.
Up front were telescopic forks with hydraulic damping.
Spoke wheels were fitted, with a 3.50x19 inch tire on the front and an unusual 4.50x17 inch size tire on the rear wheel.
The GL 1000 featured engine dimensions of 72mm x 61,4mm compression ratio was 9:2:1 Power output was 80 bhp.
Wheelbase was 60.5 inches for optimum straight-line stability and his weight was 635 lbs filled up with all the fluids.
The Tank was a dummy, filled with electronics, and air filter, the real tank was under the buddy seat. It could hold 19 liters or 5 (US) gallon. 
The original GL1000 Gold Wing, powered by a 999cc liquid-cooled horizontally opposed four-cylinder engine, revolutionized motorcycle touring. The faux fuel tank contains electrical components and storage space. Spoked aluminum rims are standard. Note the black exhaust system, with chrome heat shields and tailpipes.
The GL 1100 was an all-new motorcycle.
There was a lot of competition from the Yamaha XS 1100 and the Kawasaki Z 1300, so Honda had to come with more then just a facelift and a little extra displacement.
It was the first Goldwing with an factory supplied fairing, because Honda realized that about 80% from all the wings had aftermarket fairings installed.
The left pocket had room for an optional radio/stereo/intercom system, including the loudspeakers.
The Aspencade in 1982 came standard with an AM/FM stereo cassette and had an onboard air compressor.
Most of the changes were to the brakes, wheels and suspension, the unified braking system (UBS) was the most significant.
The hand brake lever controlled the left disc, and the brake foot pedal controlled the right front and rear brake simultaneously.
The Honda Goldwing GL 1200 featured an all new engine, but has a lot in common with the previous design, only the fuel and oil pumpswere taken from the old engine.
Capacity was bigger up to 1182 cc stroke was 66 to 75.5mm,
A quartet of 32 mm Keihin carburetors squirted fuel trough larger 36 mm inlet valves into a combustion chamber with more efficient cylinder head design.
Modified valve timing with longer valve lift duration and computerized ignition contributed to an increased output to 94 bhp at 7000 rpm.
Improved handling was also sought by dragging back and lowering the steering head. Like all the previous wings cornering clearance was limited.
Enthusiastic drivers had the footrest soon at the floor, but fortunately they were flexible enough to raise a little, mine were after 5 years of enthusiasm almost gone (the rubber that is)
Radio and cassette player were on board, and the luxury types had an compressor to raise the shocks. The torque of the bike was good enough for not shifting gears to often, if you had a lazy touring day.
Some problems were risen with the alternator which was a weak point of this bike, but I must say, I never had any trouble, you had to keep the connections clean, so that the power flow was not interrupted. 
The Honda GL1500 Goldwing was announced for the 1988 model year.
It's arrival came at a time when Kawasaki's Voyager, Suzuki's Cavalcade and the Yamaha Venture Royale had started to challenge the GL1200 Goldwing.
Unfortunately, these challengers, while being great machines in their own way, concentrated on adding more in the way of luxuries to their machines and had they attended to the real needs of a touring bike, such as reducing weight and improving handling, there is no doubt that they would have been a real threat to the Honda flagship.
Nonetheless, by 1987 the touring market was decidedly crowded and Honda had been working on the next Goldwing for a few years.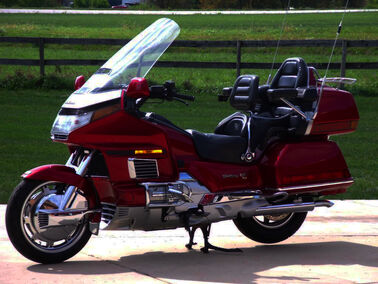 The result of their efforts was an astounding machine that looked, handled and felt light years ahead of any touring motorcycle to date, period.
Younger riders looking at the GL1500 twelve years later cannot really appreciate it's impact when it arrived.
This monster had a silky smooth six-cylinder engine that pulled like a train, a reverse gear and it's appearance was years ahead of it's time with a design that in spite of being the heaviest Wing to date, actually felt lighter and did the job a lot better than before.
Such was the impact that the GL1500 had on the opposition that it ruled almost unopposed for more or less it's whole production life, in spite of receiving few real improvements over the years.
The late 90's seen the only real threat to the Goldwing, BMW's KLT1200 and in true Honda fashion, the 1800 Goldwing made it's appearance in time to set the standard for touring motorcycles once again.  
Honda has announced that for 2004 it's flagship tourer, the Goldwing, will now be available in an all new stunning color schemes, Flare Red and Pearl Challenger Brown.
Standard fitment on this model continues to include a 6 stacker CD player, 4 speaker surround sound, AM/FM radio, cruise control, motorized adjustable headlight, headset for both rider and passenger, heated grips, adjustable windscreen, electric reverse, and pannier inner bags.
Engine
The exhaustively tested 1832cc liquid-cooled horizontally opposed six-cylinder engine is 1kg lighter than the previous design. 

Low, forward engine placement and solid engine mounting produce excellent road handling characteristics and impressive low-speed
Parallel two-valve cylinder head design utilizes direct, shim-under-bucket valve actuation and requires no 1000km service; the first valve clearance inspection is at 50,000km. 

Silent-type camshaft chains with automatic adjusters provide reliable, maintenance-free operation.

6.9-litre air-box supplies a large volume of cool clean air to the engine.

Two 40mm-diameter throttle bodies deliver air to six, specially designed Keihin(r) 50-psi high-pressure fuel injectors. Fuel is delivered through four nozzle tips in each injector, producing an atomized fuel mixture that is highly combustible, for optimum efficiency and power.

Electronic CPU provides two digital 3-D fuel injection maps for each cylinder and one digital 3-D ignition map for each cylinder, creating ideal fuel mixture and spark advance settings for superb ride ability.
Unique knock-control sensor monitors ignition advance to improve performance throughout the entire rpm range.

CPU-controlled, closed-loop emission control system utilizes two oxygen sensors to constantly deliver a precise, air/fuel mixture while two exhaust catalyzers reduce emissions of carbon monoxide, hydrocarbons and nitrogen oxides further.
Rotary Air Control Valve(tm) (RACV) provides auto-choke function and maintains precise idle control under widely varying engine loads and operating temperatures.
High-pressure-formed, sintered iron Nickalloy(tm) crankshaft bearing caps provide quiet engine operation throughout the engine's operating temperature range.
Exclusive Gold Wing Features
Powerful new fuel-injected 1832cc six-cylinder engine produces smooth, effortless power-118 bhp and 125 lb./ft. of torque-while meeting the California Air Resources Board (CARB) 2008 emissions standards.

Beautiful multi-box-section aluminium dual-spar frame assembly is 11kg lighter than the previous steel design. Engineered with a Pro Arm(r) single-side cast aluminium swing-arm, the 2001 Gold Wing sets new class standards for handling. 

Honda's proven Linked Braking System(r) (LBS(r)) provides superb braking power in a wide range of operating conditions. Optional model adds Anti-Lock Brake System (ABS) for even better control during hard braking.
· All-new anti-dive system minimizes front fork dive when braking.
· New, computer-controlled adjustable hydraulic rear suspension preload.
· Redesigned slow-speed electric reverse system.
· All-new, lightweight electronic cruise control system.
· Remote control operates trunk and locks/unlocks trunk and saddlebags.
· State-of-the-art audio system with CD player.
· A complete line of bolt-on accessories and appearance items.
Touring Features
The parallel two-valve cylinder head design, together with side-mounted radiators, allows the engine to be moved forward 50mm for optimum ergonomics, with excellent rider foot room and an enlarged passenger cockpit. 

Placing the rider closer to steering axis also improves steering feel and helps assure even better handling.

All-new, slow-speed electric reverse system is engaged with the simple push of two thumb controls on the right handlebar. 

All-new, lightweight electronic cruise control system utilizes a 16-bit CPU-controlled, motor-actuated throttle mechanism that is 2.5 times more sensitive to speed variation and responds 40 percent more rapidly than the previous system.
The Gold Wing's aerodynamic bodywork is functional as well as beautiful, providing excellent rider wind protection while reducing the drag coefficient a remarkable 10 percent compared to the previous design.
A simple yet ingenious, ratcheting-windshield adjustment system provides six settings over nearly 100mm of travel. Operated manually, the mechanism eliminates the weight and complexity of electric motors.
The Gold Wing trunk provides 61 litres of storage capacity with an additional 5 litres of storage available if the optional CD-changer is not installed. Two full-face helmets fit easily in the trunk. The saddlebags provide 40-plus litres of storage each, resulting in a total of 147 litres of storage space.
The saddlebag lids feature hydraulic dampers for smooth operation.

Specially designed luggage features a remote control key-lock, permitting pop-open rear trunk operation, a remote lock/unlock feature for the trunk and the saddlebags, and a horn-actuated bike locator.
If remote locking is attempted while a lid is open, the emergency lights flash to alert the rider.
Storage pockets located in the fairing and rear trunk feature oil-damped doors for smooth operation.
Soft-touch elastomer provides a luxurious feel to the front console, front and rear pocket covers and the passenger armrests.

Wind-tunnel-tested flow-through fairing ventilation system. 

Ergonomically designed saddle with a low, 739mm seat height has a plush passenger seat with 50mm more room than the previous model. Integral backrest and side support provide all-day riding comfort.
Panasonic (tm) state-of-the-art audio system features two enclosed 25-watt stereo speakers for full-spectrum music reproduction with superb bass.
Features include 12 FM and six AM preset stations, weather band radio, station auto-select, headset-ready intercom, auxiliary adapter, ambient audio enhancement, auto volume control, and audio mute.
Intuitively designed, console-mounted controls provide all set-up functions while ergonomically designed controls mounted on the left handlebar make rider-activated audio selection a simple process.
A hooded, high-resolution LCD display is easy to read in all riding conditions. Options include trunk-mounted six-disc CD changer, 25-watt rear speakers, and a 40-channel CB radio. 

Completely redesigned instrument cluster includes white-on-black analogy displays for speedometer, tachometer, coolant temperature and fuel level, and features adjustable backlighting and high-luminescence red pointers.
A LCD clock is located in the speedometer face.
A high-resolution 110 x 254 dpi LCD, housed in a separate module, is legible in all lighting conditions and displays the odometer, A/B trip meter, ambient temperature, audio modes, CB, rear suspension setting, and trunk-open indicator.
Indicator/warning lights are provided for reverse, neutral, overdrive, oil pressure, fuel injection, high beam, side stand, cruise on, cruise set, and low fuel. 
New motorized headlight aiming system is operated by a dial switch located on the left fairing panel and provides 2.5 degrees of adjustment from level.
Large 25 litre fuel tank houses the EFI fuel pump and provides excellent long-distance cruising range.
Ad blocker interference detected!
Wikia is a free-to-use site that makes money from advertising. We have a modified experience for viewers using ad blockers

Wikia is not accessible if you've made further modifications. Remove the custom ad blocker rule(s) and the page will load as expected.