Kawasaki Heavy Industries, Ltd. is a Japanese company famous for making motorcycles, among other things. The company is famous both for its entry level sportsbike, the Ninja 250R, as well as having the reputation for breaking world records, such as the Mach III (Fastest production bike at that time), the GPZ900R (Which was the most powerful production motorcycle at that time), the Z1 (Most powerful 4 cylinder 4 stroke engine when it was new.), the ZX-11 (Which was the fastest production motorcycle for 6 years), the ZX-14 (Most powerful production bike when it was released), and the Kawasaki H2 (Most powerful production bike). The color green became a signature color for the company, which was initially used for its racing models. James Stewart Jr., the current World and National AMA Supercross champion, rides for Kawasaki, and in 2007, the champions of the Supercross, Supercross Lites West, and Supercross Lites East championships all rode for Kawasaki.


This article about a company is a stub. You can help Motorcycle Wiki by expanding it.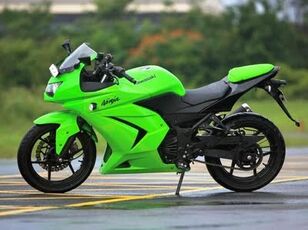 Dual Purpose/Off road
Entry level sportsbikes
Mid level sportsbikes
Superbikes
Hyperbikes
Standard motorcycles
Cruiser and touring motorcycles
Ad blocker interference detected!
Wikia is a free-to-use site that makes money from advertising. We have a modified experience for viewers using ad blockers

Wikia is not accessible if you've made further modifications. Remove the custom ad blocker rule(s) and the page will load as expected.