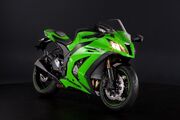 The Ninja ZX-10R is a sportsbike manufactured by Kawasaki.It is the successor of the ZX-9R. It was originally released in 2004 with minor revisions in 2005. It combines an ultra-narrow chassis, low weight, and radial brakes. In 2004 and 2005 the ZX-10R won Best Superbike from Cycle World magazine and the prestigious international Masterbike competition.
First GenerationEdit
This was the debut of the Ninja ZX-10R. It was compact, with a short wheelbase and a high power-to-weight ratio, which helped the handling. The exhaust system was fully titanium with single muffler.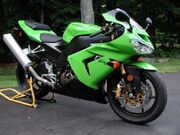 Among other changes, the 2006 model featured twin underseat exhausts which contributed to a 5 kg (11 lb) increase in dry weight. The engine remained largely unchanged.
The 2006 ZX1000D6F model carried over to the 2007 model year, with only color scheme changes. The most noticeable difference between 2006 and 2007, is that the heat-shields on the exhaust pipes are black on the 2007 ZX10R, and 2006 came with silver ones.
Second GenerationEdit
The ZX-10R was all new for its launch for the 2008 model year. There was a dramatic change in appearance with the bike featuring a much more angular front end. Kawasaki moved away from the twin-underseat exhausts of the 2006–2007 model to a more conventional single side exhaust. The compression ratio of the engine was raised.
The 2011 ZX-10R underwent major overhaul both mechanically and visually. Most notably, Kawasaki introduced their S-KTRC (Sport Kawasaki TRaction Control) system as a standard feature; responsible for predicting when traction will be lost and adapting accordingly. Also new are KIBS (Kawasaki Intelligent Braking System) as their optional ABS system, a completely new design, adjustable foot-pegs, larger throttle bodies, a horizontal rear suspension, lighter three-spoke wheels, Showa Big Piston Fork front suspension, and an LCD panel dashboard.
External Links
Edit
BikeHPS.com - UK supplier of BST Carbon Fibre Wheels for ZX-10R - info, pictures and reviews