The ZX-12R is a Sportsbike made from 2000 to 2006 by Kawasaki. Following Kawasaki's tradition, it was known as a contender to be the fastest production motorcycle, however, due to the 'Gentleman's Agreement', in which bike manufacturers agree to limited the top speed of the bike, it is unknown whether the ZX-12R could've surprassed the top speed of Suzuki Hayabusa or not.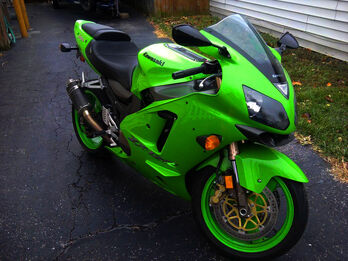 The ZX-12R was Kawasaki's flagship sport bike (Until there is the ZX-14 ) and a competitor to the Suzuki Hayabusha. It was replaced by the ZX-14 in 2006.
PerformanceEdit
Starting with 2001 models,speed limiters were included to reduce the ZX-12R's top speed to 300 km/h (190 mph).This was because governments mainly in Europe were concerned with the ongoing pursuit among Japanese manufacturers of ever higher maximum speeds, which were seen as a powerful marketing tool in most markets around the world. In Japan, pre-production tests revealed a top speed near 200 mph.
ProductionEdit
The Kawasaki Ninja ZX-12R was discontinued in 2006. While not nearly as popular in terms of sales as the Suzuki Hayabusa, the ZX-12R enjoys a strong following among its riders and fans. Many sport bike magazines praised the ZX-12R for its overall sportbike performance.
External LinksEdit
BikeHPS.com - UK supplier of BST Carbon Fibre Wheels for ZX-12R - info and pictures
Ad blocker interference detected!
Wikia is a free-to-use site that makes money from advertising. We have a modified experience for viewers using ad blockers

Wikia is not accessible if you've made further modifications. Remove the custom ad blocker rule(s) and the page will load as expected.