The Kawasaki Z1000 is a standard motorcycle , which succeeds the previous Z900, as well as the Z1. 
First Generation (2003-2006)
Edit
Aimed to replace the Z1, the first generation Z1000 maintains the standard bodystyle, with an upright riding position suitable for daily riding. The designer of the motorcycle is the same designer as the one who 
designed the Mazda MX-5, a famous little convertible. It uses backbone frame that supports the engine, as well as an engine mount that is easy to remove, which allows for an easier maintenance. 
The damping technology is adopted from off road bikes, which was very rare for standard motorcycles at that time. This improves the bike's ride quality at uneven roads.
Second Generation (2007-2009)
Edit
The second generation features an engine based on a detuned engine from the ZX-9R model. It is capable of reaching 0-60 mph in 2.9seconds, with the top speed limited to 166 mph. 
Third Generation (2010-Recent)
Edit
The third incarnation features a restyled exterior, as well as bigger engine capacity. By having an ABS as a standard feature, it was marketed as the 'Z1000 ABS'.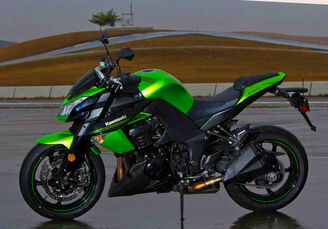 Ad blocker interference detected!
Wikia is a free-to-use site that makes money from advertising. We have a modified experience for viewers using ad blockers

Wikia is not accessible if you've made further modifications. Remove the custom ad blocker rule(s) and the page will load as expected.