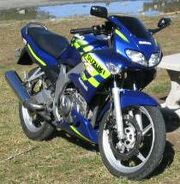 A motorcycle or motorbike is a single-track, two-wheeled motor vehicle powered by an engine. Styles of motorcycles vary depending on the task for which they are designed, such as long distance travel, navigating congested urban traffic, cruising, sport and racing, off-road conditions. In many parts of the world, motorcycles are among the least expensive and most widespread forms of motorised transport. Motorcycles are most often used for transportation, however motorcycle racing is also very popular. There are many different types of racing, including motocross, Superbike racing, and Supermoto.



This article is a stub. You can help Motorcycle Wiki by expanding it.
Ad blocker interference detected!
Wikia is a free-to-use site that makes money from advertising. We have a modified experience for viewers using ad blockers

Wikia is not accessible if you've made further modifications. Remove the custom ad blocker rule(s) and the page will load as expected.