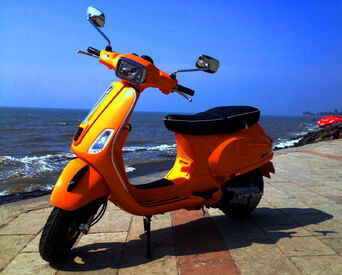 Scooter is a type of motorcycle suitable for city use. It features a step through frame, smaller wheels (Compared to the other types of motorcycles), an engine located bellow the rider, and an upright handle bar.
Advantages
Edit
The compact size of the scooter allows the bike to pass through spaces that bigger bikes can not. It also features a floor to rest the feet. Scooter's upward handle bars creates a comfortable ergonomic for the rider. Scooter's spacious seat is suitable to carry passenger at the back for a long trip. Its seat can also be used to carry loads and other stuffs. The small wheels allow for a better flexibility through tight corners. Its light weight is a benefit to the fuel economy.
Disadvantages
Edit
Due to the small wheels, there's a higher risk of losing traction compared to other types of bikes. This becomes more obvious when traveling on gravels and uneven roads or travelling on a wet road. Its engine placement also compromises the handling balance. Compared to other types of bikes, scooters are the least suitable for high speed travel due to the inferior stability.
Ad blocker interference detected!
Wikia is a free-to-use site that makes money from advertising. We have a modified experience for viewers using ad blockers

Wikia is not accessible if you've made further modifications. Remove the custom ad blocker rule(s) and the page will load as expected.