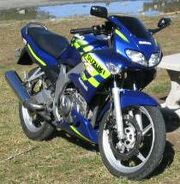 The Suzuki FXR150 "Cybermatic Sports Cruiser" is powered by 4-stroke 147 cc engine, 4 valve, DOHC. Produced in Malaysia by Lion Suzuki Motor Sdn Bhd with 75% local content, it is sold for RM9000. It replaced the slighty larger in size 2-stroke Suzuki RG150/RGV150. It features a full digital dash which displayed fuel, RPM , speed and gear. Top speed is around 140 - 150 km/h. The frame is made of box cut steel and had a banana shaped rear swingarm, it has a single mono shock on the rear with a single disk brake. The front suspension is a traditional telescopic fork also with a single disk brake. The wheels are 5 spoke Enkei mag type wheels. The engine has a six-speed close ratio gearbox with a kickstart and electric start. The engine features a small oil cooler to aid cooling, ( the Suzuki advanced cooling system). It also features TWIRL system at the combustion chamber.


This article about a model of a motorcycle is a stub. You can help Motorcycle Wiki by expanding it.
Ad blocker interference detected!
Wikia is a free-to-use site that makes money from advertising. We have a modified experience for viewers using ad blockers

Wikia is not accessible if you've made further modifications. Remove the custom ad blocker rule(s) and the page will load as expected.