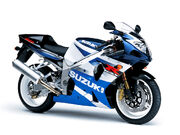 The Suzuki GSX-R600 launched with a water-cooled 599cc inline-4 engine. The first model had the same body specifications as the 1992 GSX-R750, with the smaller engine and carried over through the 1993 model year with no changes. The 2006 model will carry over to the 2007 model year with only color scheme changes.
The 1985 Suzuki GSX-R750 model featured a lightweight aluminium alloy frame, flatslide carbs, twin disks with 4-pot brakes and 18-inch tires both front and rear.
In 1986 Suzuki introduced the GSX-R1100. It featured a stronger frame than the GSXR750, electrically controlled anti-dive forks(compared to the 750s hydraulically controlled anti-dive system), slightly larger wheels(18X4.5" and 18X3.75"), a steering damper, 34mm CV carbs, and a 1052cc 130hp motor. The model run lasted until 1988 for three years with little changes. In 1989 Suzuki introduced the second generation GSXR1100 to match the 750 that debuted the year before. It was a completely redesigned bike with 40mm carbs(36mm in the US), 17" wheels, and the 1127cc motor that would produce 130+whp in stock trim.
The Suzuki GSX-R1000 was introduced in 2001 to replace the GSX-R1100 and is powered by a liquid-cooled 988 cubic centimeter inline four-cylinder 4-stroke engine.
Suzuki revealed a significantly updated GSX-R1000 for 2007 at the Paris motor show. The new bike gained 14 pounds over the 2006 model (see above picture) which is most likely due to its new exhaust system and new emissions regulations. Although not a completely new model, the engine and chassis have been updated. Suzuki claims improved aerodynamics. Pricing has been quoted at $11,399.