Touring motorcycle is a type of motorcycle made for long journey comfort. The term  itself is specified by manufacturers towards certain models.
Characteristics
Edit
One of the signature features of a touring motorcycle is the relatively large body size, which gives a spacious room for the rider and passenger. Its tall riding position is made to give space for the legroom. The seats are sculptured to be comfortable and ergonomic for both the rider and passenger. Touring bikes often feature storage places for a long journey. The tall windshield is made to keep rider and passenger from getting exposed by the wind. Some touring bikes feature luxuries such as radio and air conditioner.
Sub Types
Edit
There are different variations of touring motorcycles. These are the list of known variations of touring bikes :
Sport Tourers - A touring bike with a more frontward riding position for better handling balance. Engine setting could be sportier than a conventional touring bike, depending on the model. The overall design is made for better handling.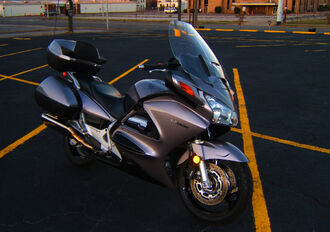 Ad blocker interference detected!
Wikia is a free-to-use site that makes money from advertising. We have a modified experience for viewers using ad blockers

Wikia is not accessible if you've made further modifications. Remove the custom ad blocker rule(s) and the page will load as expected.