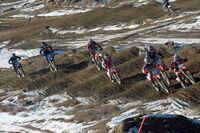 Whoop-De-Dos more often called whoops or sometimes moguls, are series of bumps about 3 feet tall seperated by 4 to 6 feet in a Supercross or motocross track. They are smaller than most jumps and therefore are not usually actually jumped off of. Beginners often "roller coaster" over them, riding each one up and then down. Slightly more advanced riders will treat them as jumps, and double or triple them. More advanced riders still, will put their weight back on their motorcycle, and accelerate through the whoops, which, if done right, allows them to skim over the top of each whoop. James Stewart Jr. is noted for doing a wheelie through them. This greatly contributes to his speed, as he is able to fly through the whoops, however it does increase the risk of falling somewhat.
Ad blocker interference detected!
Wikia is a free-to-use site that makes money from advertising. We have a modified experience for viewers using ad blockers

Wikia is not accessible if you've made further modifications. Remove the custom ad blocker rule(s) and the page will load as expected.